Share House Tokyo: We'll Find You Fun & Affordable Guest House or Apartment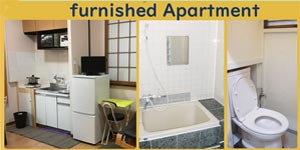 Why not share a house while you stay in Tokyo
Bamboo House has been providing high-quality living in Japan since 1984. We have a large number of share houses in Tokyo that are fully furnished, we also offer private apartments and guest house rooms in both Tokyo and Chiba.
When we say "fully-furnished," we mean FULLY-FURNISHED. Your  room is ready for you to move in immediately. For those looking to spend a week or two in Tokyo a sharehouse may be ideal, as it is a great opportunity to meet people on your trip.
If you prefer your privacy a shared house may not be for you, but don't worry we also have fully furnished apartments available. 
We welcome everyone, of all nationalities!
Tokyo Sharehouse
Here are what you can expect from a share house room:
Fully Furnished Room
Short-Term & Long-Term Stay options
No Key Money Required
No Guarantor Required
What should I expect from a guest house or share house in Tokyo?
The guesthouse is a type of "shared" accommodation, in which renters have to share common areas like the kitchen, bathroom, and laundry room with other guests.
The cost-effectiveness of staying in a share house rather than a conventional apartment in Tokyo is the primary motivation for many people. The cost of rent for a room is significantly lower than that of an apartment. You will also have free access to the internet.
There is more to our share house units than meets the eye; certain of our guest house units come equipped with Extra Features that are exclusive to those particular rooms. 
Many or our share house rooms are like a mini apartment
Here are some of the examples:
Private Microwave
Private Kettle
Private shower and toilet
Sink
Refrigerator
Many of our Guest houses and Tokyo Apartments are in convenient areas by a station
Regardless of how long you plan to stay, choosing the right area in a big city to call home can be overwhelming.
But worry no more, that is exactly where we at bamboo house come in. Whether you are looking for a house, share house or even a home we are sure we can find something to suit your needs.
We also have accommodation in or nearby many famous area:
Shinjuku, Shibuya, Roppongi, Shimokitazawa, Ebisu, Tokyo and Nakameguro
Contact us today
And for more information checkout be sure to check out our many blog posts:
Tokyo Apartments: Foreigner-Friendly Tokyo apartment, Guest houses: First time in Tokyo? Everything you need to know about aGuest House, and Searching for Apartments: What Types of apartment can you find in Japan?